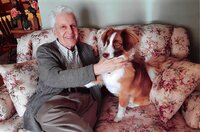 Robert Edward Dorton
Robert Edward Dorton, 90 of Maplewood passed away at home surrounded by his family on June 17, 2022.
Relatives and friends are invited to attend the Funeral Mass at Our Lady of Sorrows Church, 217 Prospect Street, South Orange, on Wednesday, June 22nd at 10:00 AM. Interment to follow at St. Vincent De Paul Cemetery in Stirling. In lieu of flowers donations to Alzeimer's Assoc Greater NJ Chapter, 23 Vreeland Road, #105, Florham Park, NJ 07932 would be appreciated.
Robert was born in Jersey City, NJ and has lived in Maplewood for the past 54 years. Robert received his Bachelor's degree from the College of the Holy Cross in Massacheusetts. He served in the US Marine Corp from 1955-1957. Robert worked as a Copy Editor for Wall Street Journal in New York City from 1954 until his retirement in 1998.
Robert is survived by his wife Mary Ellen Dorton, Son Keith Dorton (Jayne), daughter Patricia Bergen. He is also survived by several nieces and nephews. Robert was precedeased by his son-in-law Michael Bergen.