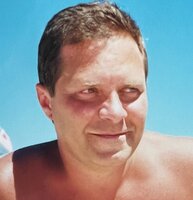 Robert J. Fortunato
Robert J. Fortunato, 64 of Union passed away suddenly on June 17, 2022.
The family will be receiving friends at The Jacob A. Holle Funeral Home, 2122 Millburn Ave, Maplewood on Friday, June 24th from 4:00 – 7:00 PM followed by a prayer service at 7:00 PM. Interment is private. In lieu of flowers donations to The Wounded Warrior Project would be appreciated. For more information or to send condolences please visit jacobhollefuneralhome.com
Robert was born in Washington, NJ and has lived in Union for the past 6 years. He worked as a Project Manager for for Kings Super Market.
He is survived by his wife Sandy Mollach Fortunato, daughters Alex Terry (Mike) and Cassie Fortunato, brother Jeffry Fortunato and grandchildren Lila Fortunato-Osei, Jaxon, Chase, and Maverick Terry.