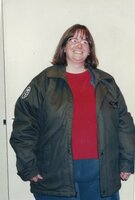 Margaret "Beth" Doblosky
Margaret "Beth" Doblosky, 53 of Somerville passed away at home on Tuesday, June 21, 2022.
The family will be receiving friends at The Jacob A. Holle Funeral Home, 2122 Millburn Ave, Maplewood on Thur, Jun 30th from 5:00 – 7:00 PM followed by words of remembrance at 7:00 PM. Interment is Private. In lieu of flowers, donations to The Glioblastoma Foundation would be appreciated. For more information or to send condolences please visit jacobhollefuneralhome.com
Beth was born in Orange and lived in Maplewood, Boston, Morris Plains, and West Orange before moving to Somerville for the last 15 years. She received her bachelor's degree from Kean University and her law degree from Boston University. She worked as an Accountant for FTI Consulting, Roseland, NJ. She was a beloved sister of Lambda Chi Rho. She enjoyed crocheting and loved making blankets for people around her. She was passionate about human rights and was a strong advocate for what she believed in.
Beth was predeceased by her mother Kathleen DeBaun Doblosky. She is survived by father Jack Doblosky and his wife Joyce, siblings Susan Luster and Kevin Doblosky and his wife Dianna, brother-in-law Sean Luster and nieces and nephews Megan Luster, Andrew Luster, Xander Doblosky, and Miles Doblosky.