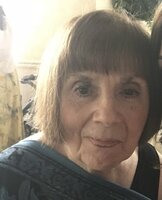 JoAnn Tierney
JoAnn Tierney (nee Lillo), 80 of West Orange passed away on June 25, 2022. Beloved wife of the late Donald Tierney.
She was born to Angela Caltabiano and Peter Lillo, the oldest of 3 children. JoAnn was born in Paterson NJ and had lived in Short Hills before moving to West Orange 12 years ago.
An avid baker, beader and decorator, she worked at various financial institutions, most recently Smith Barney in Florham Park.
Predeceased by her brother Peter Lillo (Rosemary) and her stepson Donald "Donnie" Tierney Jr. Survivors include her son Justin Tierney (Diana), her sister Judy Mustachio (Matt) her stepdaughters Robin Elliott and Cheryl Kellner, and beloved friends, nieces and nephews.
A Memorial Service will be held at a later date.
Arrangements by The Jacob A. Holle Funeral Home, Maplewood.