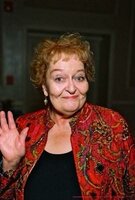 Joan M. Shuss
Joan was born in Rochester, NY and has lived in Flushing, NY, Kendall Park, NJ, Montclair, NJ, South Orange, NJ, Vauxhall, NJ, Bayonne, NJ and lastly in both Bridgewater NJ and Doylestown, PA. Joan was a full-time mom and homemaker while also refinishing and selling antique furniture. She sold her antiques at the Tomato Factory in Hopewell, NJ and other shops in the area. As a local manager for American Field Service (AFS), a student exchange program, she helped young people from all over the world experience another culture for a year. She owned a restaurant in Kingston, NJ, later opening a French restaurant in Upper Montclair, NJ. She eventually became an expert food taster for Kraft Foods in East Hanover, NJ. A lover of travel, she especially enjoyed trips to France, Belgium, Holland, and Austria. A true Francophile, she stayed in touch with friends in France for many years.
Joan was predeceased by her parents, George and Margaret Guenther and her brother-in-law, Gerald Douglass. Joan is survived by her sisters Nancy Douglass and Suzanne Henderson (Lloyd); her children Gregory Shuss (Laurie), Andrea Renee Kleppinger (William) and Alexandra Shuss (Scott Gilroy); grandchildren Jared Colvin (Stacy), Matthew Colvin (Margie), Bryan Martinez (Elizabeth Misitano) and Adam Shuss (Emily); great-grand-children Isabelle Shuss, Logan Colvin and Thea Martinez.
The family will be receiving friends at St. Stephen's Church 119 Main Street on Saturday, July 9th from 10:00 -11:00 AM followed by a Memorial Service at 11:00 AM
In lieu of flowers donations to Covenant House (https://www.covenanthouse.org) would be appreciated.
For more information or to send condolences please visit jacobhollefuneralhome.com