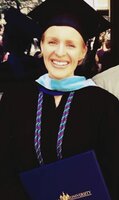 Margaret H. Middleton
Margaret Hart Middleton, 41, of Short Hills passed away at Overlook Hospital in Summit, NJ, on June 26 after a long illness.
Born in Illinois on April 19, 1981, Margaret moved with her family to New Jersey in the early 1980s, attending St. Rose of Lima School and Millburn High School. She earned her B.A. in Psychology from Kean University and later an M.S. and Ed.S. in Counseling from Seton Hall University. Fluent in Spanish, she worked as a counselor for the Morris County Correctional Facility and later for Bridgeway Behavioral Health Services. Margaret enjoyed music and singing, and her other pursuits included making and selling jewelry.
She was the proud mother of Brynne ("Em") and Joie, and she is also survived by her mother, Joyce Middleton, her fiancé, Greg Katz, her brothers, Michael and Brendan Middleton and Brendan's wife Michelle, and her niece, Marie, as well as her aunts, Sandy Middleton and Edelgard Burris, and many cousins. Margaret was predeceased by her father, Timothy G. Middleton, as well as her grandparents.
In lieu of flowers, donations can be made to Autism Speaks.