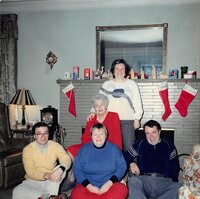 John T. Farrell
For John's loved ones unable to attend his Funeral Mass, on Friday at 10:00 AM, we will be making it possible to attend online via livestream please click on the link below:
John T. Farrell passed away peacefully in his sleep on Saturday, July 30, 2022, at Canterbury Care and Rehabilitation Center, Cedar Grove, NJ
Visitation will be held at Preston Funeral Home 153 South Orange Ave, South Orange, NJ on Thursday, August 4th from 6-8 pm. The Funeral Mass will be held at Our Lady of Sorrows Church, 217 Prospect Street, South Orange on Friday, August 5th at 10:00 AM. Interment Gate of Heaven Cemetery, E. Hanover.
John was born in Orange, NJ and attended Our Lady of Sorrows Grammar School, Delbarton High School, and St. Bernard College, Alabama.
John served in the United States Navy as a Petty Officer, 2nd Class/Special Intelligence Analyst for 10 years. He was employed by the United States Postal Service as a Letter Carrier in South Orange, NJ for 23 years. His final position was as a Concession Worker at MetLife Stadium, Delaware North Company, East Rutherford, NJ
A lifelong resident of South Orange, John enjoyed walking the Village and surrounding area. He volunteered at the Newark Museum and with the EIES of NJ through the South Orange Public Library.
He was preceded by death by his father, John E.; mother, Margaret S.; sister, Margaret A.; and brother, Paul E... He is survived by his sisters, Ellen M. of San Francisco, CA and Jane M. of Toms River, NJ and many cousins.
In lieu of flowers donations to Charity of your choice would be appreciated. For more information or to send condolences please visit prestonfuneralhome.net