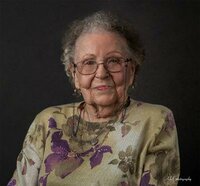 Amy L. Edwards
Amy Edwards was born Amy Lois Atterbery on October 8, 1920 in Douglas, Oklahoma to Jasper Atterbery and Edna Mae Gage. She died on August 12, 2022. Amy married Lawrence Joseph Petraccaro on October 16, 1943 in Russell, Kansas. At the end of the Second World War she moved to Newark, New Jersey with her husband. He died on March 1, 1965 and she later married Lloyd Edwards. On his death she returned to New Jersey.
Amy worked at Ohrbach's Department Store in New York and Newark for many years.
She is survived by a son, Lawrence Louis Petraccaro and his wife, Rebecca, a daughter, Carol Platania and her husband Ronald, six grandchildren and seven great-grandchildren.
She will be buried in Gate of Heaven cemetery in East Hanover, New Jersey.