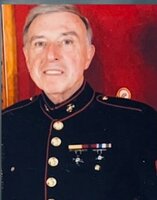 Joseph A. Ahern
Joseph A. Ahern, 82 of High Bridge, NJ formerly of Millburn, NJ passed away on August 13, 2022 at Hunterdon Medical Center, Raritan Township.
Visitation will be held at The Jacob A. Holle Funeral Home 2122 Millburn Avenue, Maplewood, NJ on Sunday, August 21st from 2:00 – 5:00 PM. Interment is private.
Joe was born in Southampton, England to his parents, Josephine and Michael. As a result of World War II, the three of them fled to Queens, New York where his younger brother John was born. Joe went on to receive his Bachelor's degree from C.W. Post College and his Master's in Business Administration from Long Island University. Joe is also a US Marine, where he served as a Corporal and during the Vietnam War. He went on to become Vice President at Chase Manhattan Bank in New York City. Joseph retired from banking, but eventually found another home at the F.B.I. as a Financial Operations Specialist in Newark, NJ for the last 20 years. Joseph has four sons and two of which were adopted as orphans during the Vietnam War. He was a black belt and teacher in Judo, a hobby he had a very strong passion for. Joseph also helped train with the US Olympic Bobsled team and ran the New York City Marathon at the age of 65.
Joseph was predeceased by his son Brian and his brother John.
He is survived by his companion Marie King, his sons Ronald, Patrick and Gerald. Joseph was also a proud Grandparent to Will, Bridget, Vivian, Landon, and Andrew.
Joe was never the loudest voice in the room; he rather had a calming presence. He truly listened and was present whenever he was talking to someone. Joe loved sharing stories about his career and talking about his loved ones. There wasn't a birthday or holiday that went by without a card or gift, which always arrived ahead of time. His grandchildren have about 100 stuffed animals with FBI pins that they will always cherish. He was so thoughtful, and he will be missed terribly by everyone who knew him.
In lieu of flowers, donations to Huntington's Disease Society of America would be appreciated.