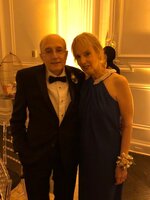 Ronald J. Tkach
Ronald Joseph Tkach, 68, of Short Hills, NJ passed away suddenly on Sunday, August 28, 2022. He had spent the week with his family and friends surrounded by love.
Ron was born in Elizabeth, raised in Linden and lived in Short Hills for the past 39 years. Ron received his B.S. in Civil Engineering from Rutgers University and his Master's Degree in Civil Engineering from Stanford University. He worked as an engineer for PSE&G in Newark for over 39 years. Ron loved his childhood in Linden, vintage cars (especially his 1966 Corvette Stingray), newspaper comics, vanilla ice cream, dad jokes, and his family.
Ron is survived by his loving wife Barbara Jean Tkach (née Knipper) of 41 years; daughter Janine Tkach and her husband Mike Dunn; son Jason Tkach and his wife Shruti Patel, MD; son Luke Tkach and his fiancée Ali Palacios; his sister Joanne Oberuch; and countless loving cousins, nieces and nephews. He was excited to meet his first grandchild early this November.
Visitation will be held at St. Rose of Lima Roman Catholic Church, 50 Short Hills Ave, and Short Hills on Thursday, September 1st from 4:00 – 8:00 PM. The Funeral Mass will be held at St. Rose on Friday, September 2nd at 10:00 AM. Interment to follow at St. Gertrude Cemetery in Colonia.
In lieu of flowers, please consider continuing his legacy by donating to Food for the Poor (https://foodforthepoor.org) and making a corny joke.
For more information or to send condolences, please visit jacobhollefuneralhome.com.