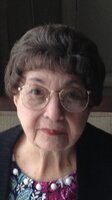 Lucy A. Chirico
Lucy A. Chirico (nee Frasco), 96 of Maplewood passed away at home on October 27, 2022
Visitation will be held at Preston Funeral Home 153 South Orange Ave, South Orange, NJ on Saturday, Nov 5th from 9:00 - 9:30 AM . The Funeral Mass will be held at Our Lady Of Sorrows Church, 217 Prospect Street, South Orange on Nov 5th at 10:00 AM. Entombment to follow at Gate Of Heaven Cemetery in E. Hanover.
Lucy was born in South Orange and has lived in Maplewood for the past 40 years. She was a member of the Maplewood Senior Club and was once the "Sunshine Lady"
Lucy was a devoted mother and wife and was married to her husband Joseph for 56 years before his passing.
Lucy was predeceased by her husband Joseph in 2002. She is survived by her son Gerardo Chirico and his wife Patricia and daughters Joanne and Angela Chirico.
In lieu of flowers donations to Alzeimer's Association Greater NJ Chapter, 23 Vreeland Road, Suite 105, Florham Park, NJ 07068 would be appreciated.
For more information or to send condolences please visit prestonfuneralhome.net