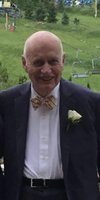 Douglas Reed
Douglas E. Reed, 95 passed away on November 18, 2022 at Winchester Gardens in Maplewood.
Douglas was born in Newark and a lifelong resident of Millburn before moving to Maplewood in 2015. He worked in Management for Dun & Bradstreet in Manhattan and Berkley Heights for 35 years. Douglas spent his life volunteering for several organizations including but not limited to the Boy Scouts, New Eyes for the Needy, Maplewood Garden Club, Meals on Wheels and the National American Glass Club.
Douglas is predeceased by his wife Shirley in 2016. He is survived by his children Arthur (Linda), David Reed and Janet Binsau, his granddaughter Danika (Nick) Spengler, great grandchildren, Jade and Collin Spengler, step-grandson Shane Fischer, his two brothers Edward (Marilyn) and Frank (Anne) Reed and a brother-in-law Richard DeHart.
Relatives and friends are invited to attend the Funeral Service at Wyoming Presbyterian Church, 432 Wyoming Ave. Millburn on Wed, Nov 30th at 10:30 AM. Reception to follow at the church downstairs. Interment will follow for family only at St. Stephen's Cemetery, Millburn.
In lieu of flowers, donations to would be appreciated to either Wyoming Presbyterian Church, 432 Wyoming Avenue, Millburn, NJ 07041 or The National American Glass Club, P O Box 66, Andes, NY 13731.
For more information or to send condolences please visit jacobhollefuneralhome.com