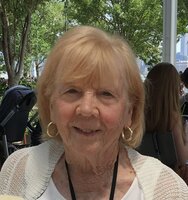 Joan A. Ivansheck
Joan Pine Ivansheck, devoted mother and grandmother, died peacefully on December 26th at her home in South Orange, NJ.
Joan was born on July 28, 1929 in NYC and resided in East Northport, NY for 63 years, raising three children. She was a bank teller for 6 years before launching her 25 year career at Nassau Suffolk Lumber & Supply. She was active in volunteer work, mostly at Huntington Hospital. Joan enjoyed traveling and spending time with her family. She will be remembered as a loyal friend and loving family matriarch.
Joan was predeceased by her son Arthur, sister Regina and brother John. She is survived by her daughters, Patrice Roughley (Kevin) and Joanne Strandberg (Stephen). She will be missed by her granddaughters Dara, Gillian, and Tess, and her many nieces and nephews.
Family and friends are invited to the Funeral Mass at St. Joseph Catholic Church, 767 Prospect St., Maplewood, NJ on Friday, January 6th at 10:30am. In lieu of flowers, donations may be made to the American Cancer Society, PO Box P, Manasquan, NJ 08736 would be appreciated.