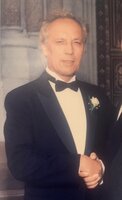 George J. Handrinos
George J. Handrinos, 90 of Maplewood, NJ passed away at his home on December 31, 2022.
George was born on April 1, 1932 in Kalamata, Greece. He emigrated to America,by boat, at the age of 23, in pursuit of the American dream.
George graduated from Fairleigh Dickinson University in Teaneck, NJ, then married his wife, Maria. They raised their family in Maplewood, NJ. He owned Ima Realty in East Orange, NJ and The Garden Restaurant in Union, NJ.
George is survived by his devoted wife Maria Handrinos, three sons Lewis (Suzanne), Dean (Fotini) and Jason Handrinos (Lindsey) and his daughter Athena Formichella (Ed) seven grandchildren Michael (Alyssa), Alexandra (Anthony) Zoe, Raina, Fiana, Nasos ,Gunner and great granddaughter Elena.
George was full of life, a lover of people, traveling and international culture, with a very curious mind. He always had a positive outlook on life, and brought so much joy to so many through his humor.
George was also very passionate about his community and being of service to others. Every Thanksgiving & Christmas he would open his restaurant to the feed the homeless and provide presents to children in need. He would even open his home to host holiday dinners for his employees that didn't have family with which to celebrate. His positive impact on his community will be truly missed.
George was an extremely hard worker and would say, "when you love what you do, you don't have to work a day in your life."
The funeral was private.
In lieu of flowers donations to The National Hellenic Museum in George's memory would be appreciated.