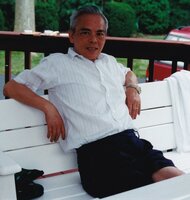 Hubert B. Wong
Hubert B. Wong, 96 of Union passed away on January 5, 2023 at Overlook Hospital, Summit.
Visitation will be held at Preston Funeral Home 153 South Orange Ave, South Orange, NJ on Tuesday, January 10th from 3-7 pm. The Funeral Service and burial will be private.
Hubert was born in Toisan, China and lived in the United States for 80 years, mostly in South Orange for 48 years before moving to Union for the last 4 years. Hubert served in the Army at the end of the Korean War with the 6th Tank Battalion. He worked as a Driver in the garment district for over 30 years with various businesses. Hubert was an avid sports fan and loved watching sports.
Hubert is predeceased by his wife Mie Woen Wong, his sister, Mee Hoo Eng and Brother Hing Wong. He is survived by his daughter Carol Dastangoo, her husband Siamak, daughter Mabel Wong, son Hubert and grandson Cyrus.
In lieu of flowers, online donations to VA New Jersey Healthcare System East Orange, New Jersey Facility, (www.cdceportal.va.gov/donate_online/) would be appreciated.
For more information or to send condolences please visit prestonfuneralhome.net