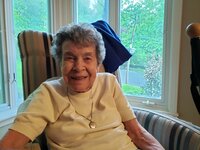 Brigitte Doele
Brigitte Hermine Doele, 90
Brigitte Hermine Doele (Senninger) passed away in Florham Park, New Jersey surrounded by family in her last days. She was born in a small town in Bavaria, grew up in Passau, Germany, attended Sueddeutsche Library School in Stuttgart, Germany and became head librarian in her hometown of Passau.
She met James Doele on a city cultural exchange program, and they were married at her home church of St. Paul's in Passau. She emigrated to the US where together they raised four sons while continuing her career first as a librarian followed by a 35-year tenure as a paralegal in Morristown, New Jersey. She loved her work particularly doing medical research in the paralegal role.
Brigitte also loved and served others in many ways including playing an active role in the Good Shepherd Community at Seton Hall University as a Eucharistic minister, lector, and member of the pastoral council. She was also a member of the lay support community for the Salesians of Don Bosco.
She also was an ardent supporter of multiple animal causes and dedicated herself to humane care and control of cats in her neighborhood. Brigitte loved to travel and was known by family as the 'Reise Tante' (Traveling Aunt).
She is preceded by James Doele (Husband of 50 years) and her beloved sister Sr. Maria Franziska (Eugenie) Senninger. She is survived by her brother Rudolf Senninger of Regen, Germany; her sons and their families; Gregory Doele, Christopher Doele and Joey Lynn Zeltner, Kenneth and Wendy Doele all from New Jersey, and Philip and Esther Doele, along with granddaughters Christianna and Eula Doele from Atlanta Georgia.
Visitation will be held at Preston Funeral Home 153 South Orange Ave, South Orange on Thursday, Jan 26th from 4:00 – 8:00 PM. The Funeral Mass will be held at Our Lady of Sorrows Church 217 Prospect Street, South Orange on Friday, Jan 28th at 10:00 AM. Interment if Private.
In lieu of flowers, the family asks to please donate to your local animal shelter or charity of choice.