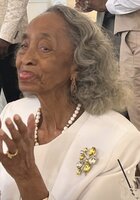 Blanche M. Mitchell
Blanche M. Mitchell, of South Orange, NJ, passed away on February 21, 2023 at her
home surrounded by her family.
Blanche M. Mitchell was born on March 15, 1938, in Brunswick, Georgia to the late
Simon and Mattie Bell Harris. She was the youngest of 5 children. She has four children,
Debra, Alvin, Sheila and James Jr. In 1964, the family relocated to Passaic, New Jersey.
In 1970, Blanche received her certification as a Home Health Aide working with senior
citizens in Newark, NJ. A few years later, she began working directly with mothers with small children.
Sister Mitchell was baptized at the Newark Church of Christ in July of 1974.
In 1984, Blanche took a position as the manager of custodial services at the US Attorney
office in Newark, NJ. After many years of service, she retired in 2003. She did not stay
retired long, and continued her career of public service with the Maplewood Police
department as a crossing guard. In 2010, she officially retired.
Blanche was preceded in death by her son, James Mangram Jr., grandson, Jonathan
Gunter, brother, Joe Lee Harris, 3 sisters Henrietta Williams, Louise Stephens, and
Jacqueline Carroll.
She leaves to cherish her memory her 2 daughters; Debra (John) Gunter and Sheila
Mangram, Son; Alvin Mangram, Brother; James (Alma) Harris, 14 Granddaughters;
Trieasha (Coby) Dillard, Deidre Gunter, Wyekia Gunter, Shawntay Gunter, Alesha
Gunter, Shamya Gunter, Ashley (Benjamin) Edmonds, Chanice Gunter, Anansza Gunter,
Taja Gunter, and Ariana Gunter, 5 Grandsons; Jon Gunter, Rajon (Muskisha) Gunter,
Lamar (Shamika) Baker, Jerek Gunter, and Jamane Gunter, 7 Great Granddaughters;
Shakira, Alariya, Laila, Amia, London, Alana, and Nevaeh. 10 Great Grandsons; Zyreon,
Damani, Jonathan, Kingston, Elijah, Carter, Ethan, Jayceon, Bryson, and Brayden, close
friends Rovena Rogers, Patricia Shipman, Lois Carter, and Priscilla Emile, and a host of
other nieces, nephews, and friends.
Visitation will be held at Newark Church of Christ, 894 S. 14th Street, Newark on Wed,
March 1st at 10:00 AM followed by a service at 11:00 AM . Interment will be held in
Brunswick, Georgia on March 4th.