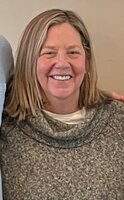 Cindy L. Todd
For Cindy's loved ones who are unable to attend her Funeral Mass in person the service will be lived streamed on March 4th starting at 10 AM please click on the link below:
https://www.youtube.com/user/Stroseshorthills
Cynthia L. Todd, 67 of Millburn passed away suddenly at home on February 26, 2023.
Visitation will be held at The Jacob A. Holle Funeral Home, 2122 Millburn Avenue, Maplewood, NJ on Friday, March 3rd from 4-8 PM.
The Funeral Mass will be held at St. Rose of Lima Church in Short Hills, NJ on Saturday, March 3rd at 10:00 AM. Interment will be private.
Cindy was born in Glen Ridge, NJ and has lived in Millburn for 32 years. She has worked in numerous jobs for Millburn Board Of Education for the past 20 years, most recently as the head administrator for the Washington School.
Cindy is predeceased by her sister Constance Hermes. She is survived by her loving husband James "Chip" Todd, children Courtney and Carter Todd, sister Jackie Lockman, brothers Frank and John Lawrence.
In lieu of flowers contributions may be made to Community FoodBank of New Jersey cfbnj.org