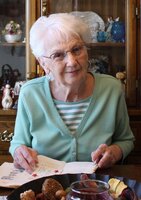 Mary T. Wirth
Mary T. Wirth
On March 2, 2023 Mary left her body for her journey to heaven. She will forever live on in our hearts and memories.
Visitation will be held at The Jacob A. Holle Funeral Home 2122 Millburn Avenue, Maplewood, NJ on Monday, March 6th from 5-8 pm. The Funeral Service will be held at the funeral home on Tues, March 7th at 11:30 AM. Interment to follow at St. Stephen's Cemetery in Millburn
Born in Newark N.J. to John P. and Elizabeth Murray of Millburn NJ. Mary raised her family in Short Hills before moving to Pennsylvania after her retirement. Mary was an avid gardener and her house was always filled with plants. Mary loved all animals especially the many birds that flocked to her backyard for daily feedings. She loved to read and was a big sports fan. Always had a baseball or football game on the TV that you could hear her yelling at! She enjoyed sharing stories, she was never short of words.
She spent much of her career working for the Township of Millburn, retiring as the Violations Clerk, always keeping the court and Police Force on their toes.
Mary will be lovingly remembered by her 3 children and their spouses. Kenny and Audrey Wirth, Patti and Frank Arsi, and Lori and Don Kiwor. She was the loving Grandmother (Mushroom) to 6 Granddaughters and 6 great grandchildren, with one on the way, her brothers John and wife Barbara of Short Hills and James in Toms River. Mary was predeceased by her Husband George, brother Eugene and parents.
She will be dearly missed by her longtime friends and new friends in her care takers at Country Meadows Assisted Living Home (Bethlehem PA).
In lieu of flowers donations to St. Luke's Hospice House 2455 Black River Road
Bethlehem, PA, 18015 would be a tribute to the care they gave in her final days...