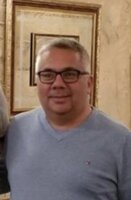 Douglas A. Hsu
It is with great sadness that we announce the passing of Doug Hsu on May 12, 2023. Douglas, 56, is survived by his wife, Pilar Hsu; son German Hsu, brother Stephen Hsu; sister, Jennifer Lai; and brother-in-law Eric Lai. Cousins Robert, John, David, Marie, Jeff, Deborah, Tiffany, and Jennifer. Nieces and nephews Morgan, Madison, Devin, Maven, Jayden, Ava, Evan, Enzo, and Jaxon. His beloved cats, Blizzard and Lolly.
Visitation will be held at Preston Funeral Home, 153 South Orange Ave, South Orange, NJ, on Monday, May 22nd, from 4:00 – 8:00 pm. A prayer service will be held on Tuesday, May 23rd at 11:00 AM.
Douglas was born in Livingston and has lived in South Orange since 1997. He graduated from Rutgers University in Newark. Douglas was a manager at Horizon Blue Cross / Blue Shield in Newark for over 25 years.
Doug was characterized by his humor, playful spirit, and kindness. Doug was passionate about food, music, and sports throughout his life. There was no activity planned which didn't end in a feast of his favorite foods and treats. He enjoyed an eclectic taste in music, with some of his favorite bands including The Beatles, Guns N' Roses, Elton John, and Fleetwood Mac. Doug was an avid New York Mets and the San Francisco 49ers fan. He found joy in playing various board games with family and friends.
Doug cherished time at the Jersey Shore, creating lasting memories with his closest family and friends. Doug's lasting legacy is one of generosity and love, impacting the lives of those he encountered.
In addition to his family, Doug is survived by numerous friends, coworkers from his Horizon BC/BS family, and countless others whose lives were enriched by knowing him. He will be deeply missed, but his memory and spirit will live on in the hearts of those who had the pleasure of knowing him.
In lieu of flower donations, we ask those attending the services to please wear Doug's beloved Mets attire or colors.
For more information or to send condolences, please visit prestonfuneralhome.net