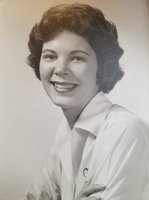 Dorothy S. Gardner
Dorothy Stephens Gardner ("Beth") passed to eternal life on December 17 th , 2018 in New Providence, New Jersey, surrounded by the love of her husband, children, and grandchildren.
The Florida native graduated Florida State University in 1963 where she was an Alpha Phi sorority sister. After meeting Midshipman Joel Gardner (USNA 1963) in 1961, she and Joel married on December 29, 1963, and began a life of travel and adventure during his 23 years in the Marine Corps and CIA living in exotic locales such as Hawaii, Bangkok, and Paris.
Beth dedicated countless hours to her creative needle -crafts and origami, which she shared with many through her teaching and role as Alter Guild leader for St David's Episcopal Church in Ashburn, Virginia. Having touched many lives with her strong will, capable hands and loving heart, we will miss her more than written or spoken words can express.
A celebration of Beth's life will be held at St David's Episcopal Church, 43600 Russell Branch Parkway, Ashburn, Virginia on February 23, 2019 at 11:00 AM. For more information or to send condolences please visit jacobhollefuneralhome.com
In lieu of flowers donations to one of theses charities would be appreciated.
Beth was dedicated to supporting greyhound rescue and adoption.
National Greyhound Adoption Program

Bob Woodruff and his wife, Lee,join forces to support multiple veteran charities.
the Bob Woodruff Foundation
Click under "Get Involved"
Is a Washington DC based organization committed to helping DC families in need. Bread for the CIty