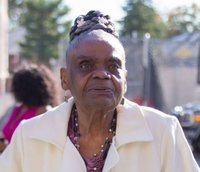 Gloria E. Rhooms
Gloria Esemeta Rhooms affectionately called Miss Essie was born September 20th 1935, to Arnold and Eva Rhooms in St. Catherine Jamaica WI.
She was the 2nd of 12 Children. She attended Sergantville Allage School in St. Catherine Jamaica before starting her career as a seamstress.
Gloria had 4 children, Rita, Dexter, Melonie and Greg.
Gloria was a loving and caring mother who worked very hard to make sure her children were always taken care of and instilled great values in which they live by daily.
Miss Essie had a passion for Gardening and took great pride in Attending to her flower Garden.
She migrated to the Bahamas in her early 30ies to work then returned to Jamaica where she lived for many years, before migrating to the United States in 2009 to join her Children.
Gloria is survived by her brother Rennie Rhooms, Sister Cynthia Rhooms, and Gloria Rhooms-Robinson. She is also survived by her children Rita Goshine, Dexter Thomas , Melonie Clarke , and Greg Thomas .Her Grandchildren Christopher Bruce, Nicole Bruce, Kerese Patterson , Cherese Douglas, Jovounne Thomas, Kimberly Thomas, Kahleel Thomas , Kadeem Thomas , Haley Hoyes and Daniel Thomas and 2 great grandchildren Meilah and Jonathan , and lots of nieces and nephews. Miss Essie was loved by many and will be greatly missed.