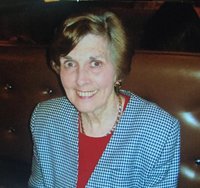 Elizabeth F. Garrett
Elizabeth "Betty" F. Garrett, 78, of South Orange, N.J. passed away on Friday, Feb. 8, 2019, at Winchester Gardens in Maplewood, N.J.
Relatives and friends are invited to attend the Funeral Mass at Our Lady Of Sorrows Church, 217 Prospect St., South Orange, on Tuesday, Feb. 12, at 10:30 a.m. Interment is at Gate Of Heaven Cemetery, East Hanover, N.J. Visitation will be held at Preston Funeral Home, 153 South Orange Ave., South Orange, on Monday from 3 to 6 p.m. For more information or to send condolences, please visit prestonfuneralhome.net
Betty was born in Montclair, N.J. She graduated from Marylawn of the Oranges, and earned her bachelor's degree in home economics in 1962 from the College of St. Elizabeth, and her master's degree in education from Montclair State College (now University). Betty was a teacher and guidance counselor for over 42 years in the West Orange school district. She was a member of the Bayley Seton League of Seton Hall University, the NJEA and the NEA.
Betty lived in South Orange for 75 years before moving to Maplewood three years ago. She was a longtime member of Our Lady of Sorrows Church and its Rosary Society. She was known as a good friend and caring helper for her friends and neighbors.
Betty was predeceased by sister, Marcia A. Klemm, to whom she was devoted, and Marcia's husband, Thomas Klemm. Betty was also the beloved companion of the late New Jersey Congressman Matthew J. Rinaldo. She was the loving aunt of Christopher and Cathleen Klemm, and great-aunt of Brendan, Bailey, and Kyle.
In lieu of flowers, donations to a charity of your choice would be appreciated.