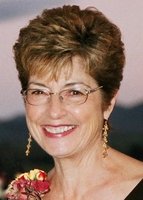 Sandra K. Roszell
If you're lucky, you meet a few great people in your life. And if you were really lucky, one of those people was Sandie Roszell, 78, who passed peacefully on Thursday, March 7, 2019.
Born in Colorado; raised in Oakland, Calif.; long-time resident of Castro Valley, Calif.; and finally resting near Maplewood, N.J., Sandie was many things. Loving wife, mother and grandmother. Amazing friend. But also an accomplished painter (3rd place for oils at the Alameda County Fair, thank-you-very-much). A hat maker. Small business owner and one-hour-photo store pioneer. A jetsetter, who at 23 moved to London alongside her husband Dennis with only pennies in their pockets ... just because they could.
Quick to make friends and never one to lose them, people who she knew for more than 70 years and just 70 days lined up at her bed to say their goodbyes. This included "The Golden Girls," a group of her best friends since childhood who did everything together.
She was a certified, expert pinch-punch-first-of-the-month player. It was a game made famous by the Roszells. Many tried to beat her. Few succeeded. Sandie's kindness and hospitality were well-known, and her doors (and meals) were always open to family, neighbors, friends and even friends-of-friends. The Christmas Eve parties she threw were legendary — for more than 40 years people came for the company and stayed for her brisket and pies.
Strong in faith but never preachy or judgmental, she was a devout member of the Presbyterian Church, who she affectionately called "The Frozen Chosen." A soothing presence, fussy grandchildren would instantly fall asleep once placed in her arms. And she could tap dance and sway a mean hula — and was proud of it.
Sandie was equaled in her sense of humor only by her brother, Doug, with whom she was incredibly close. He made his way to the pearly gates 12 months before her — on the exact same day, at the exact same time. This, we think, was not coincidental. They could never be apart for long.
Married for 58 incredible years, Sandie leaves behind her loving husband and caregiver Dennis; and her children and grandchildren that she never tired of showing off: Jennifer (husband Karl, children Eva and Nick), and Matt (wife Jen, children Charlotte and Clark). She is also survived by sister in laws Ellen and Bobbie; brother in law Larry, cousins Connie and Bob; nieces Hannah, Denise and Lori; and so many friends-who-are-like-family that they're impossible to count. She was preceded by her mother, Wilma, and father, Charles. As well as a menagerie of pets she cared for over her lifetime, including six cats, two dogs, a goldfish that lived 22 years, and a giant South African desert tortoise.
A Celebration of Life will be held for Sandie on Sunday, April 7 from 1-4 p.m. at The Bridges Golf Club in San Ramon, Calif. Make sure to head to the Garden Pavilion. In lieu of flowers, the family asks that you donate to the National Alzheimer's Association to help others who suffer the cruel effects of dementia, or to the Juvenile Diabetes Research Foundation (JDRF) to help find a cure for the Type 1 Diabetes that affects her grandson and grandniece.