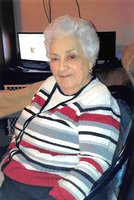 Sophie Torten
Sophie Torten, 94, of Toms River passed away on Sunday June 2, 2019. The family will be receiving friends from 9:30-11:00 AM on Saturday June 8 at The Preston Funeral Home, 153 South Orange Ave., South Orange, NJ followed by a prayer service at 11am.
Sophie grew up in South Orange but lived in Toms River for the past thirty years. She was Head Supervisor for the Nursing Department at Clara Maas Hospital in Belleville over 25 years.
Sophie was predeceased by her husband Archie Torten. She is survived by many loving cousins and friends.
For more information or to send condolences please visit prestonfuneralhome.net