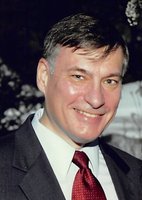 Daniel J. Roy
Daniel J. Roy, 69, of South Orange, NJ, died peacefully on June 25, 2019 at St. Barnabas Hospital. A graduate of Rutgers University and Seton Hall Law School, Daniel was a dedicated lawyer respected by his colleagues. He was devoted to his church and revered by the congregation.
Daniel was predeceased by his parents Michael D. Roy and Kathryn Roy of Elizabeth. He is survived by his loving wife Deborah, his sons George (Kari) and Russel (MacKenzie) , grandchildren Ella, Liam, Ciaran and Layla, brothers Ronald (Susanna), Robert (Josephine) and Richard Roy and by several nieces, nephews, and cousins.
A Memorial Service will be held at Holy Trinity Lutheran Church, 153 Glenwood Ave., East Orange on July 2nd at 11:00AM.
In lieu of flowers, contributions can be made to The American Cancer Society for the treatment of colon cancer.