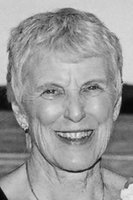 Joan L. Brubaker
Joan Litzebauer Brubaker passed away, surrounded by loving family on July 23, 2019, just 11 days after her 88th birthday. Joan was a resident of Maplewood for all but the last few years of her life when she became dependent on her children's care. She attended Tuscan school, Maplewood Junior High and graduated from Columbia High School in 1949.
As a teenager she was active in The Mariners Girl Scout organization and sailed on the Clipper Ship "The Yankee". This was one of her fondest memories. She attended and became a lifetime supporter of Eagle Island Girl Scout Camp in Upstate New York. Joan graduated form Colby Junior College (now Colby-Sawyer) in New London, New Hampshire with a medical secretarial degree. She was married to Dick "Bru" Brubaker, for twenty-one years, they had five children together.
Joan was a loving and nurturing mother, always hard working, supportive and positive. She embraced many unique adventures and ideas including family camping vacations and raising a farm animal each year from Easter until the start of the school year. What started as chicks, ducks and rabbits, ended with 2 goats and finally "Pansy" the pig.
She was an avid supporter of her children's sporting events attending hundreds of softball, lacrosse, field hockey and basketball games, as well as gymnastic meets. She was herself an enthusiastic swimmer, tennis player and bowler. A long time member of Morrow Memorial Methodist Church, Joan was active in the choir and the annual turnover sale. She believed in the fundamental goodness of all people.
Joan worked as a bookkeeper with The Marine Insurance Agency in Maplewood. In her retirement she cared selflessly for her aging stepmother, Mildred Litzebauer, but also found time to travel and visit family. Joan was always friendly and inquisitive, strong and resourceful. A sense of adventure permeated her life. She went on several sailing adventures with her daughter Jessie and family to Mexico, through the Panama Canal, and the Caribbean.
Joan will be remembered and honored by her surviving daughters and their spouses, Laurie and Rick Schweikert, Robin and Rodger Wolf, Jessie and Mike Fleming, Amy Brubaker and Larry Lefkowitz and Nancy Brubaker. She was pre-deceased by her son Tom Brubaker in 2015. She leaves behind 17 grandchildren, 7 great grandchildren and many nieces and nephews, all who will strive to carry on her wonderful qualities of positivity and perseverance. A celebration of Joan's life will be held Saturday, September 28th, 11:00 AM at Morrow Memorial United Methodist Church, 600 Ridgewood Rd. in Maplewood. Those wishing to donate in Joan's name can contribute to Eagle Island Camp eagleisland.org, or Morrow Memorial United Methodist Church morrowchurch.org