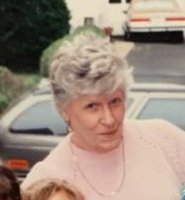 Margaret A. O'Reilly
Margaret (Peggy) A. O'Reilly 94 of Maplewood passed away peacefully at her home on August 8, 2019. Peggy was born in Orange, NJ and lived most of her life in Maplewood, NJ. She attended Our Lady of Sorrows grammar school and Columbia High School. She worked for the phone company after high school until she married John "Jack" O'Reilly and started her family. She was a devoted wife, loving mother and grandmother.
She was a faithful parishioner of Immaculate Heart of Mary in Maplewood until it's closing. She participated in Bingo nights and other fundraisers when the children were younger. She enjoyed traveling near and far. Atlantic City was always a favorite destination. She traveled to Ireland, England, Iceland and Alaska.
She returned to work in the Social Services Department in the City of Newark during the late 1970's. Upon retirement in 1990 she loved to spend time with family, her children, and grandchildren, and many nieces and nephews. She was an active member of the Maplewood Senior Citizens Group. She went on many bus trips and joined their bowling league.
Peggy was predeceased by her husband John J. O'Reilly and her son Dennis R. O'Reilly. She will be remembered and honored by her surviving sons John M. O'Reilly and his wife Victoria and Michael J. O'Reilly and his wife Lori along with her grandchildren Kristin, Kelli, Sean, Michael, Kaitlin and Maggie and many nieces and nephews.
Relatives and friends are invited to attend the Funeral Mass at Our Lady of Sorrows Church, 217 Prospect St, South Orange on Wed August, 14th at 9:00 AM.. Interment Gate of Heaven Cemetery, E. Hanover. Visitation will be held at The Jacob A. Holle Funeral Home 2122 Millburn Ave, Maplewood on Tuesday, 4:00 - 8:00 PM. In lieu of flowers donations can be sent to the Alzheimer's Association Greater NJ Chapter, 425 Eagle Rock Ave, Suite 203, Roseland, NJ 07068. For more information or to send condolences please visit jacobhollefuneralhome.com