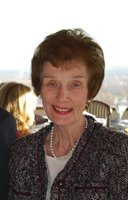 Jennifer Johnson
Jennifer Johnson, formerly of Millburn NJ, died peacefully and surrounded by family yesterday morning, August 14, 2019.
Jennifer was born in London, England in 1939 in the early days of World War II as the only child of Ian Haliburton Kerr-Cross and Sheila Macgregor. During the war years she lived with her mother in South Africa, where her father served in the Royal Air Force. When her father's unit was called up to France, they returned to London and survived the Blitz, spending nights in the basement of their row house. On Victory Europe day, mother and daughter marched down to Buckingham Palace wearing their most celebratory hats. After the war, Jennifer spent her teenage years at Benenden School and made many lifelong friendships.
Jennifer found her calling helping deaf children. She studied speech at the Royal Academy of Music in London. She emigrated to America at age 23 to work at the Lexington School for the Deaf in New York City. Then at Central Presbyterian Church in Manhattan, she met the love her life, the Reverend Ronald W. Johnson, who predeceased her in 2013.
As their family grew to include their sons Mark and Tom, the family followed Ron's work from Manhattan to Germonds Presbyterian Church in New City, NY, and finally to Millburn, New Jersey. She remained a member of the Wyoming Presbyterian Church for over 45 years.
For 30 years, Jennifer worked for the Alexander Hamilton School in Morristown. She spent many of her happiest years as a special education teacher and was particularly grateful for the opportunities to work with hearing impaired students.
She is survived by her family: Mark and Nicole, Thomas and Christina and grandchildren Ian, Mirabelle, Grace, Samuel, Claudette, Spencer and Cora.
A Service of Witness to the Resurrection will be held at 11 A.M. on Saturday, August 17 at Wyoming Presbyterian Church in Millburn. In lieu of flowers, donations can be made in Jennifer Johnson's honor to CASA for Children of Essex County (212 Washington Street #912; Newark, NJ 07102 www.casaessex.org), the Court Appointed Special Advocacy Association, which ensures that abandoned, abused and neglected children have a safe home and ability to thrive.