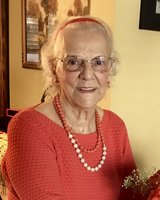 Helen Iantosca
Helen Iantosca passed away at home surrounded by her family on August 17, 2019 at the age of 93.
Helen was born in Newark and lived in South Orange for 52 years before moving to Cranford 11 years ago to live with her daughter Gilda and her family. She worked at Scheer Advertising in South Orange until her retirement in 1990. Helen was an excellent cook and was known for her creativity and the beautiful blankets she crocheted. Her greatest joy was spending time with her loving family.
Relatives and friends are invited to attend the funeral mass at Our Lady of Sorrows Church, 217 Prospect St., South Orange on Monday, August 26th at 10:30 am. Interment is at Gate of Heaven Cemetery, E. Hanover. Visitation will be held at Preston Funeral Home, 153 South Orange Ave., South Orange on Sunday, August 25th from 2-6 pm.
Helen was predeceased by her husband Carmen Iantosca Sr., and 7 siblings. She is survived by her sister Gilda Genova and her 4 children and their spouses, Michael J. and Chutima, Carmen Jr. and Kathleen, Elvira Wainwright and Gilda and Steven Shupp. She is also survived by 16 grandchildren and 7 great grandchildren whom she cherished dearly.In
lieu of flowers, donations to the American Heart Assoc., 1 Union Street, Suite 301, Robbinsville, NJ 08691 would be appreciated..