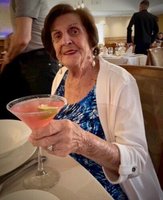 Mary Moscatello
Mary Moscatello, moved to New Jersey from White Plains, NY in 2013. She died peacefully on August 24, 2019 at Overlook Medical Center in Summit, NJ.
Born in 1926 in East Harlem, NY she lived most of her life with her family in the North East Bronx. Mary received an AA degree from Bronx Community College in 1966 when she was forty years old. She spent a good part of her career as a school secretary with New York City Board of Education. She retired when she was 62 years old.
Mary loved to travel and enjoyed trips to many places around the world. Her favorites were Spain with her husband and Japan with her sister-in-law, Ann Diomede. She enjoyed baking, knitting, casino gambling, anything Frank Sinatra, dogs, (especially her Chloé), pasta and socializing. She made friends easily and could have a conversation with anyone, anytime, anywhere.
She is preceded in death by her husband, Louis. She is survived by two children and their spouses: Augustine and Anca Moscatello, MDs and Rev. Jennifer and George Berkeley, seven grandchildren and eight great grandchildren as well as many nieces and nephews.
Memorial gifts may be made to the Rockland Center for Spiritual Living, 32 Old Tappan Rd, Tappan NY 10983 or The City College Fund, Shepard Hall Rm 166, 160 Convent Ave, NY, NY 10031-9986 (Moscatello/Diomede Scholarship)
The Preston Funeral Home in South Orange, NJ, has been entrusted with arrangements. Viewing hours will be held Monday, August 26 from 2 – 4 and 7 – 9 PM. A Celebration of Life Service will take place on Tuesday, August 27, 2019 at 10:30 AM at the Preston Funeral Home which is located at 153 South Orange Ave., South Orange, NJ 07079
In Lieu of flowers donation to :
Rockland Center for Spiritual Living, 32 Old Tappan Road, Tappan, NY 10983
or
The City College Fund, Shepard Hall Rm 166, 160 Convent Ave, NY, NY 10031-9986
(Moscatello Diomede Scholarship)