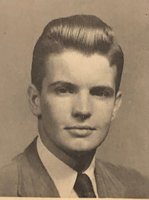 Dale Woodruff Marshall
Dale Woodruff Marshall, 84, of South Orange, New Jersey passed away at home surrounded by his family on September 3, 2019. Relatives and friends are invited to attend the Funeral Mass at Our Lady Of Sorrows Church, 217 Prospect Street, South Orange, New Jersey on Tuesday, September 10th at 10:30 AM. Interment to follow at Presbyterian Cemetery, Springfield, New Jersey. Visitation will be held at Preston Funeral Home, 153 South Orange Avenue, South Orange, New Jersey on Monday 2-4 PM & 7-9 PM. For more information or to send condolences please visit www.prestonfuneralhome.net.
Dale was born in Summit, New Jersey on February 21, 1935 to Ellwood Marshall and Onita Pannell. He graduated from Millburn High School in 1953 and attended Bucknell University in Lewisburg, Pennsylvania graduating with a Bachelor of Arts degree. He then went on to receive a Master's degree in Community Organization from Springfield College in Springfield, Massachusetts. From 1958 to 1960 Dale served in the United States Army as a medic and was stationed in Maine. In the 1960s Dale served as the Director of the YMCA in Batavia, New York.
On January 27, 1979 Dale married Agnes Agusta in Jersey City, New Jersey, and together they raised a beautiful daughter, Colleen. Dale retired in 2004 after spending 40 years teaching with the Passaic Board of Education, Passaic, New Jersey.
A lifelong lover of hunting and the outdoors, Dale's favorite pastime was spending time in the woodlands of Maine and South Jersey. If there was anywhere Dale loved to be with his family it was at the "farm" in Dorothy, New Jersey where he grew Christmas Trees for many years in the 80s and 90s and at the "lot" in Bowdoinham, Maine.
He is survived by his wife Agnes Agusta Marshall, daughter Colleen Marshall Leigh, her husband David, and many nieces and nephews. He is preceded in death by his parents and sister, Judith Marshall Forrest.
In lieu of flowers donations to Our Lady of Sorrows Church, 217 Prospect St., South Orange, NJ 07079 would be appreciated.