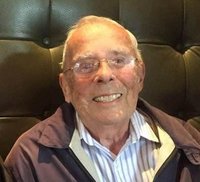 Charles R. Dyon Jr.
Charles R. Dyon, Jr was born in New York, NY on June 11, 1929 to Charles and Margaret Dyon. He grew up in Flushing, NY and Kearney, NJ.
After graduation from Flushing High School, he attended St. Michael's College in New Mexico on scholarship, where he was pursuing baseball while obtaining a degree. Prior to graduation, Charlie joined the Marine Corps and served during the Korean War as a Sergeant from 1950-1953.
After the Marine Corps, he had the opportunity to pursue his love of baseball and his desire to play in the Major Leagues. Charlie tried out for the New York Yankees and Chicago White Sox, both of which offered him a minor league position. As the story goes...his future father-in-law Fenton Fergus told him "If you want to marry my daughter, go to college." With that, he enrolled at Hofstra University to finish his degree.
Charlie graduated from Hofstra University in 1955 with a BBA, and New York University Graduate School of Business in 1961 with an MBA.
He married his long time love Patricia A. Fergus in 1956. They resided in Flushing, NY until they settled In Bayside, NY in 1966 after the birth of their daughter, Nicole. Charlie lived there until he made the move to be closer to Nicole and her family in 2003, after the death of his beloved Pat in 1995.
Charlie's Human Resources/Labor Negotiation career began at Kollsman Instrument Corporation in 1956. He was there until 1966 when he joined Simmonds Precision in Tarrytown. He worked for Simmonds until 1984 when the company was bought by Hercules Incorporated. He worked with them in Wilmington, DE until his retirement in 1989. After retirement, Charlie did many wonderful things—he consulted, was an arbitrator for the New York Stock Exchange, and taught undergraduate and graduate level Human Resources at St. Joseph's College In Patchogue and Hofstra University.
He lived with Nicole, Ken, Victoria and Matthew for 9 years until his death. He is predeceased by his wife Pat, his parents Charlie and Margaret, his brother Jack and his wife Betty, his sister Pat and her husband Bill. He is survived by his daughter Nicole and her husband Ken; two grandchildren, Victoria and Matthew; and many nieces and nephews.
In lieu of flowers the family request donations to: St. Jude Children's Research Hospital, 501 St. Jude Place, Memphis, TN 38105-1905