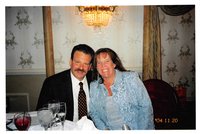 Kathleen Straub Ragonese
Kathleen Marie Straub departed her earthly home much too soon, but, hopefully, will be rejoining her makers in the bargain, Joy and Donnie, her parents.
Social media exploded with shock and sorrow at the news, and then Facebook proved that it was much more than a platform for political sniping and toe-wagging pictures in sunny locations. The love for Kathy, Tweed (Tweedy Bird), is deep and legion, the memories and outpouring began immediately. Her laugh topped the list, and her voice was like Froggy of The Little Rascals. Kathy loved when telemarketers would call and mistake her for a man. "F--- your 'sir'." She was not a delicate flower to be taken lightly.
Kathy was raised in an Irish-Catholic home, attending Our Lady of Sorrows Grammar School and Marylawn of the Oranges. Her inner-wild child made it impossible to remain at Marylawn, prone to rolling her skirt's waistband, raising the hemline, and cutting classes, so, instead, finished her education and graduated from the venerable Columbia High School where she thrived.
Kathy was a loving and doting mother to Sara Pam (her Boo), Patsy XXVII, and D.J. They wanted for nothing, especially loving spending so many of their summers "down the shore." There was never a dull moment in her home, friends and family using the revolving front door she had also installed in her heart. Parties galore, food to the max, and merriment out the wazoo, Kathy and her partner for life, Big Pat, made sure every gathering would be one for the record books.
When Kathy began working in assisted living homes and as a personal caretaker for her surrogate grandparents, she was answering her true calling. And we know she got as much love back as she gave, and that could fill the cargo holds of infinite tanker ships. But her life was all about her friends and family. We won't attempt naming any of you for, as we said, you are legion. Hold onto and share your memories of our dear, sweet Katie Marie, whenever appropriate; after all, she was a bawdy b.
Surviving Kathy are her three children, Sara Pam, Patsy IV, Donald John; her husband Patsy III; her sisters Donna Marie and Deborah Marie; her brothers Theodore Robert, Christopher John, and Timothy Michael; her many cousins who were more like siblings; Uncle Walter Mattheiss; and her nieces and nephews she loved as dearly as her own children.
The same squeaking gates of Heaven we heard opening recently that allowed Kathy's mother, Joy, to enter, are now opening to allow our own sweet girl to enter, hearing Kathy say, "Mom, Dad, is that really you?" And then the bagpipe