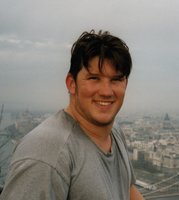 Jason Varnish
Jason Varnish, 46, of Short Hills passed away in Colorado on February 13th.
A Memorial Service will be held on Sunday February 23rd at 2pm at Prospect Church, 646 Prospect St, Maplewood. All are welcome. Following the service there will be light refreshments in Fellowship Hall at the church.
In lieu of flowers, for those who wish, we request that donations be made in Jase's name to St. Jude Children's Hospital, 501 St. Jude Place, Memphis, TN, 38105.
Jase was raised in England with his beloved brother David by their loving parents Peter and Shirley, and spent three years in Falls Church, Virginia as a child. As a remarkably successful student at Portsmouth Grammar School and London School of Economics, Jase earned a reputation for his work ethic and his ability to connect with others. Following graduation, Jase embarked on his career in banking, which ultimately saw him as Managing Director and Global Head of Prime Services Risk at Credit Suisse.
Jase married Jo in 1998 and after welcoming their first son, Cameron, in England, they moved to Millburn in 2000. Their daughter Grace arrived in 2002, followed quickly by second son Luko in 2003. Jase's sense of humor and fun will be remembered by all, not least by his children's friends who loved his zest for life. Whether playing golf, going boating, or sitting at the bar, Jase treasured the time he spent with his friends. His many passions included music, reading and cars, and he was an excellent and eager cook. Above all else, Jase loved his family.
Jase is survived by his sons Cameron and Luko, his daughter Grace and their mother Jo; by his parents Peter and Shirley; and his brother David, his sister-in-law Cheryl and his nephews Cameron and Jonny.