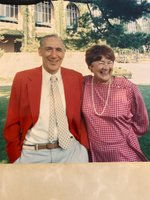 Jeanne A Gallop
Jeanne A. Gallop, 98, of Maplewood passed away peacefully at home on Sunday March 8, 2020. Visitation will be held at The Jacob A. Holle Funeral Home, 2122 Millburn Ave., Maplewood on Thursday, March 12th from 10AM-12PM followed by a Funeral Service at 12 PM. Interment will be at Gate of Heaven Cemetery in East Hanover, NJ.
Jeanne A. Gallop was born and raised in Oxford, NJ. She resided in Maplewood for over 65 years, where she and her husband Norman, raised their family. Mrs. Gallop was employed as an administrative assistant for the President of The College of Medicine & Dentistry in Newark until her retirement in 1986.
She was predeceased by her parents Anna and John Flynn, her husband Norman J. Gallop, two brothers John and James Flynn and her sisters Clare Robinson and Margaret Boley.
She is survived by her daughter Joan (Richard) Ontell and her son Robert (Karen) Gallop. She is also survived by five grandchildren Erica, Allison, Julia, Amanda and Matthew, and a great grandson Dylan.
For more information or to send condolences please visit jacobhollefuneralhome.com