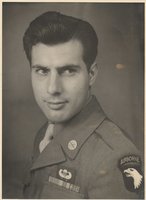 Nick R. Calabrese
For Nick's loved ones who are unable to attend his Funeral Mass in person we will be live streaming starting at 10:00 AM on Saturday, April 30th please click on the link
Nick Calabrese, 98, of Maplewood, NJ, passed away on Saturday, March 21, 2020.
He was born in Millburn to Rocco and Angelina Calabrese, and raised in Flushing, Queens. He has resided in Maplewood for 7 years, moving from Weeki Wachee, FL.
A member of the 101st Airborne, and veteran of World War II, he jumped into battle during D-Day, and fought in some of the most important battles in the European theater. As a successful commercial artist and Art Director for Reader's Digest, he worked in New York for nearly 40 years.
His first and second wives, Rose Calabrese, and Gilda Calabrese preceded him in death. He is survived by his son, James Calabrese and his wife, Melissa; grandchildren, Olivia and Evelyn Calabrese; stepson, William O. Hermann, Jr. and his wife, Linda; step-grandchildren, Richard P. Hermann II and his wife, Lisa, and John W. Hermann; step-great-grandchildren, Zachary and Max Hermann, and loving nieces and nephews.
In lieu of flowers, please be kind to each other. If you would like to make a donation, please consider:

Alzheimer's Association
P.O. Box 96011 Washington, DC 20090-6011
www.alz.org