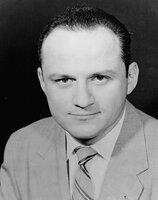 George Boselli
DUE TO ILLNESS IN THE FAMILY. THE MEMORIAL MASS IS POSTPONED UNTIL FURTHUR NOTICE
George V. Boselli, 94, of Parlin, N.J., formerly of South Orange, N.J., passed away on Wednesday, April 8, 2020.
A Memorial Mass will be held at Our Lady of Sorrows Church, 217 Prospect St., South Orange on Thursday, Sept 2nd at 10:00 AM. Arrangements by Preston Funeral Home, South Orange
George was born in Clifton, N.J. And lived in South Orange for 55 years before moving to Parlin. He graduated from Manhattan College, Bronx, N.Y., with a degree in electrical engineering. He was a technician in the United States Army during World War II. He continued his studies at the graduate schools of Stevens Institute of Technology and Newark College of Engineering. He was general sales manager for Thomas A. Edison Industries, McGraw-Edison Company in West Orange, N.J., for 17 years before his retirement in 1969.
He was a past board director of Industrial Marketing Associates and member of the Institute of Electrical and Electronic Engineers, Instrument Society of America, American Legion, Benevolent and Protective Order of Elks and Knights of Columbus. Mr. Boselli was also a member of the New York Athletic Club and Sales Executive Club of New York.
He was predeceased by his parents, Henry G. and Jennie M. Boselli; brother, Henry L. and sister-in-law, Louise Boselli.