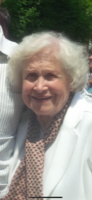 Anne Topper
Anne Topper 100, of West Orange formerly of Millburn passed away on Monday June 15, 2020.
Ann was born in Carteret, NJ and lived in Millburn for many years. She worked as a stenographer for Chub and Sons Insurance in Warren, NJ.
She was predeceased by her husband Walter Topper and her daughter Judith Topper Hayes. She is survived by her daughter Evanna Topper, grandsons Thomas & Daniel Hayes, Ty Topper and Granddaughter Paloma Kerby.
Due to current restrictions regarding the pandemic funeral home attendance is limited to thirty people. Therefore, close family and friends may visit with the family at The Jacob A. Holle Funeral Home 2122 Millburn Ave, Maplewood on Thur, June 18th from 7:00 – 9:00 PM. Entombment is Private.
A Memorial Mass will be held at St. Rose of Lima Church, 50 Short Hills Ave., Short Hills at a later date.
For more information or to send condolences please visit jacobhollefuneralhome.com