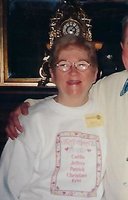 Ann "Nan" E. Wade
Nan E. Wade, 89 passed away at Autumn Lake Health Care on August 17, 2020.
Relatives and friends are invited to attend the Funeral Mass at St. Rose of Lima Church, 50 Short Hills Ave, Short Hills, on Friday, Aug 21st at 12:30 PM. Interment St. Teresa's Cemetery, Summit. Visitation will be held at The Jacob A. Holle Funeral Home 2122 Millburn Ave, Maplewood on Thursday, Aug 20th from 4-8 PM. In lieu of flowers donations to Berkeley Heights Volunteer Rescue Squad, P.O. Box 117 Berkeley Heights, New Jersey 07922 would be appreciated. For more information or to send condolences please visit jacobhollefuneralhome.com
Nan was born in Summit and lived in Millburn for 38 years and Springfield for 17 years before moving to Berkeley Heights. She was an administration clerk for the Millburn Recreation Dept. from 1965-1994. Nan was a member of Friday Friends in Millburn, Lifelighters of St. Rose of Lima and volunteered at Senior Net. She received the Good Neighbor award for The Neighborhood House in Millburn. She was past president of South Millburn Civic Association, C.C.D teacher at St. Rose of Lima Church, past secretary and treasurer of Washington School PTA and Den Mother for two years at Washington School Cub Scout Pack. Nan volunteer at the Interfaith Hospitality Network at St. Stephen's Church in Millburn.
Nan was predeceased by her husband Edward H. Wade, Jr. and her brothers John E. and Francis Van Tronk. She is survived by her children Edward H. Wade III (Linda) and Elizabeth A. Cort (Jeffrey) and her grandchildren Caitlin and Patrick Wade, Erin Pado (Alan), Jeffrey and Christian Cort.
If you will be attending the Funeral Mass St. Rose of Lima Church would like you to register for Mass. Please click on the link below.
St. Rose of Lima Church Registration for Funeral Mass