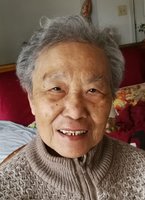 Shan Shan Ng Yeung
Shan Shan meant a great deal to so many.
For Shan Shan's friends and loved ones unable to attend her service in person, we will be making it possible to attend online via TribuCast at:
https://client.tribucast.com/tcid/4617202
Shan Shan Yeung was born in 1934 in Hong Kong and grew up in a large family in a quiet tree-shaded corner of the bustling Wan Chai district.
The family fled for several years, to Wai Jau in Guangdong province, China during the second World War. After returning to Hong Kong, Shan Shan pursued high school and nursing education then had a long career as a registered nurse.
Shan Shan was fun-loving, independent and a true 'free spirit', enjoyed playing mah-jong and dancing. Understanding the value of education, Shan Shan spear-headed the enrollment of her children in US colleges. Shan Shan married Wai Gon Ng in 1959, her dear husband of 59 years. They were devoted to their four children, their four grandchildren and step-grandchild. Shan Shan would travel long distances, rain or shine, to care for her grandchildren.
Shan Shan was pre-deceased by her husband, Wai Gon Ng and son Steven Hor Fei Ng. She is survived by her daughters Bonnie Yan Yan Ng, Lily Ng, Holly Hoi Yee Ng, daughter-in-law Sandra Songalia, son-in-law Douglas Forrest, grand-children Erika Ng, Iain San Hoi Forrest, Dougal Sing Hoi Forrest, Fiona Ying Hoi Forrest and Kevin Bernor.