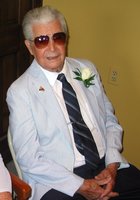 William Baldwin Hildebrand
William B. Hildebrand, 103, passed away at Winchester Gardens on August 26, 2020.
In light of the current restrictions on public gathering during the pandemic, funeral home attendance is limited. Though we encourage people to come and pay their respects, we respectfully request that you keep you visit at the funeral home brief. The funeral service will be private due to Covid 19 restrictions.
Bill Hildebrand was born in 1916 at his home in Newark. The family later moved to South Orange. Bill attended the public schools and graduated from Columbia High School. He had a keen interest in football and track. He coached football to the younger players for several years and was also on the Columbia Track Team, where he excelled at the quarter-mile.
After World War II broke out, he entered the US Army and was sent to Europe in December 1944. His first real action was the day the General Patton's Fourth Armored Division broke through the German lines and entered the encircled city of Bastogne, Belgium, to relieve the 101st Airborne. He was on guard many nights next to Col. Abe Abram's tank. Col. Abrams later became the Chief of Staff of the Army. Bill was very proud to have been part of the 4th Armored, 53rd AIB. Bill saw action throughout Belgium, Germany and Czechoslovakia. In April, 1945, he was one of the first to enter Ohrdruf Concentration Camp (part of Buchenwald) and witnessed first-hand the horrors that occurred there.
After the end of the war, he married Janice Brodie. They settled in Maplewood and raised their family there. Bill has lived in Maplewood since 1960.
Bill was a lifelong Christian, originally joining the Trinity Church in Grove Park, which later merged and became the First Presbyterian & Trinity Church of South Orange. He was a member for almost 100 years. He was heavily involved with the church and served as a deacon for many years. Bill was very interested in politics and world affairs of which he was keenly aware. He participated twice in the Senior Olympics and proudly brought home medals.
Bill enjoyed the many birthday parties and assorted celebrations for his 12 grandchildren and 12 great-grandchildren. Over the years, he enjoyed repairing and building clocks. He continued to live independently in his own home where he loved gardening, and doing small repair work around his home. He enjoyed watching football games, especially Army and Alabama and loved spending time at the Parkwood Diner, especially the nights when the live bands were performing.
He was predeceased by his wife, Janice Brodie, sister, Sue Stewart, brother, Bob and son in law, Bob DeRose. He is survived by his sister, Jane Weir, his children, Bill Hildebrand (Mary Ann), June DeRose, Marilyn Maas (Ken), his 12 grandchildren, nieces and nephews and his 12 great-grandchildren and all of his wonderful Neighbors.
Donations can be made to Wounded Warrior Project in lieu of flowers. https://support.woundedwarriorproject.org