jacobhollefh@aol.com
prestonfh@aol.com

​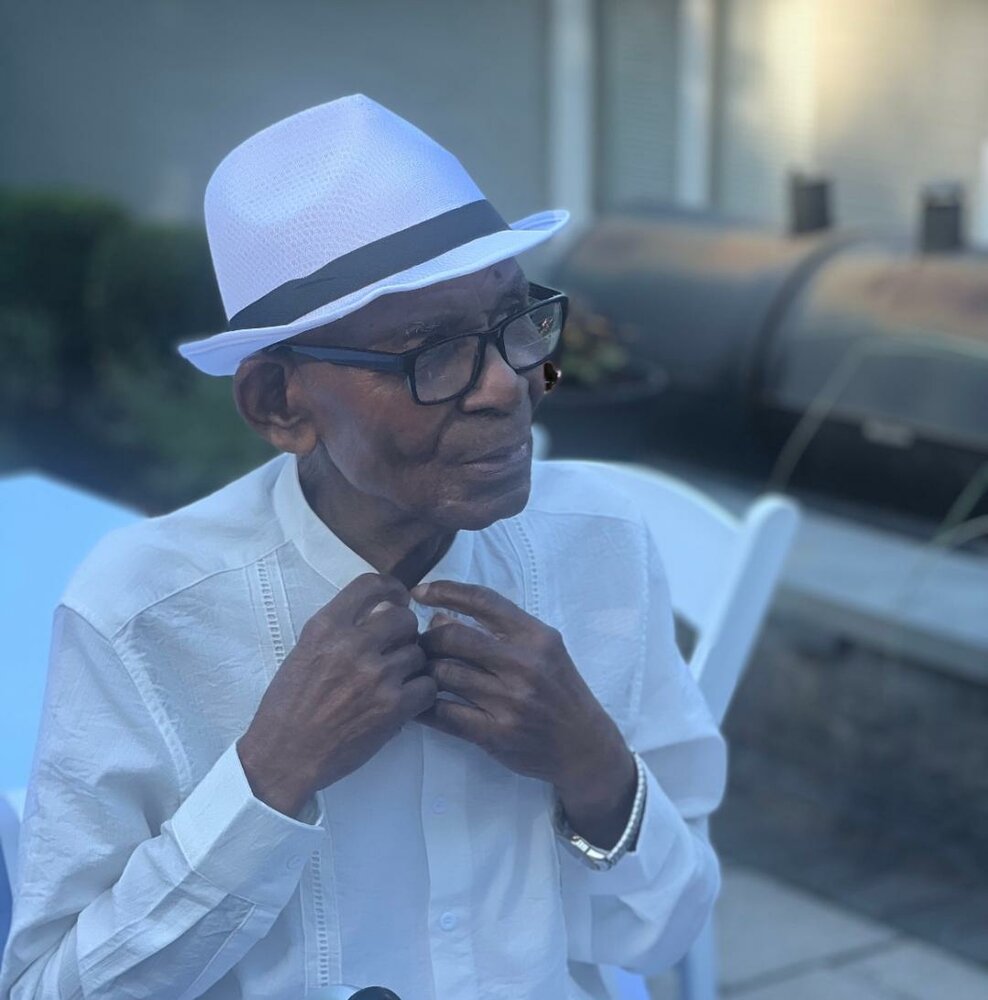 Obituary of Cyrus A. Nicholson
For Cyrus's loved ones unable to attend we will be making it possible to attend online via livestream starting at 6:45 PM on Friday, Dec 9th please click on the link below:
https://client.tribucast.com/tcid/4613934670
Cyrus Adolphus Nicholson, a man known for his gentle demeanor and quiet leadership, died peacefully, surrounded by his family, at St. Barnabas Hospital, Livingston, New Jersey on Thursday December 1, 2022.
Born on March 15, 1932, in Pomeroon, Essequibo, Guyana, to Alisha Adolphus and Henry Nicholson, Cyrus was a beloved father, grandfather, uncle and friend. After spending his childhood in Pomeroon with his siblings George, Cecil (Obi), Enid, Phyliss and Joseph, as a young man, Cyrus followed his older brother Cecil and moved to Wales estate in 1952. There, he worked as an apprentice electrician which served as the genesis of his long career as an electrical engineer. When Obi emigrated to England, once again Cyrus followed him and in 1955, he emigrated to London. It was there that he met Ursula Farinha whom he married in 1962. In London, Cyrus continued working as an electrician and attended night classes studying electrical engineering, graduating as an electrical engineer in 1968. Upon graduation, Cyrus immediately accepted a position at the bauxite company in Mackenzie, Guyana and moved his family to Watooka, Linden in 1968. Cyrus headed the Guymine electrical department and worked at Guymine until 1976 when he resigned as Superintendent, Electrical Department to focus all his efforts on his business Star Bonnet Hotel and Restaurant in Industrial Area, Linden which he had started with his wife, Ursula, 2 years prior. Cyrus poured all his efforts into his successful hotel and restaurant and took great pride and joy in ensuring that the food served was the very best. Until the end of his days, he would insist on his food having "flavor." Cyrus was very forward thinking and started Star Bonnett so that he would have a legacy to leave his family. Knowing that his youngest niece, Shondelle Nicholson, continues Star Bonnett to this day was a source of immense pride for him.
Cyrus spent his later years between Toronto, Florida, Texas and West Orange, New Jersey with his children and grandchildren where his quiet, humble demeanor served as a lesson to all. He was always supportive to all who came within his ambit with a quiet word of encouragement and nuggets of wisdom. His humor, kind nature, immense gratitude for even the smallest thing and his unwavering ability to see the good in everyone and the wonder in everything will be missed by all who knew him. He leaves to mourn his children, Kenneth, Jennifer, Melanie Dale, Mark, Adrien and Melanie Nicholson, his grandchildren Kellon, Kathryn, Max, Zahra, Kweisi, Ariann, Justin and Alyssa, great granddaughter Nia, sister Phyllis, sister-in-law Jean Leonie Nicholson, nieces and nephews Marcella, Derrick, Clyde, Colin, Anthony, Robert, Patrick, Joanne, Gillian and Shondelle, as well as countless other relatives.
Visitation at Funeral Home
6:00 pm - 9:00 pm
Friday, December 9, 2022
Preston Funeral Home
153 South Orange Ave
South Orange, New Jersey, United States
973-762-1133
Visitation at Church
9:45 am - 10:45 am
Saturday, December 10, 2022
The Episcopal Church Of St. Andrew And Holy Communion
160 W. South Orange Ave
South Orange, New Jersey, United States
973-763-2355
Funeral Service
11:00 am
Saturday, December 10, 2022
The Episcopal Church Of St. Andrew And Holy Communion
160 W. South Orange Ave
South Orange, New Jersey, United States
973-763-2355
Share Your Memory of
Cyrus
​
jacobhhollefh@aol.com
prestonfh@aol.com
2122 Millburn Ave | Maplewood, NJ | 07040
153 South Orange Ave. | South Orange NJ | 07079